Gemineu Welding Ltd.
---
We are a general machining, welding and fabrication plant located in Taber, Alberta, and are best know for our signature product, the Gemineu Shoe.
The Gemineu Shoe is a revolutionary pipeclamp/shoe design that offers many advantages over older style riser clamps.
Other products include Bolt on Clamps, Saddle Clamps and can manufacture products based on your custom design.
Gemineu Shoe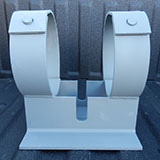 No need to cut around ears of clamp with the insulation compared to earlier style riser clampsp
No water seepage into the insulation
Allow to cut down on time that it would normally take to insulate pipe
Perfect for fiberglass pipe as there is no flattening pressure.